In Boston, MA, the numbers got scary fast. Parts of the area quickly became a hotbed of covid-19 cases. "I've been through a lot of crises in my 25 years in animal care," says Michael Keiley, Director of Adoption Centers and Programs at the Massachusetts Society for the Prevention of Cruelty to Animals-Angell Animal Medical Center, or MSPCA-Angell. "This was different. There was nothing to compare it to, and we knew we had to act quickly."
Action is in the MSPCA-Angell's background. They were founded in 1868—yes, they've been saving animals in the Boston area for 152 years. They have three adoption centers in Massachusetts, with full veterinary clinics in all locations. They take care of the usual household dogs, cats, and birds, and also for horses, pigs, roosters and other farm animals at their Nevins Farm facility. "We're a lot of different things," says Bryn Rogers, Assistant Director of Adoption Programs. "We even have our own law enforcement agency."
When COVID-19 hit Boston, the MSPCA-Angell wasted no time. "The first thing was Angell, our 24-hour emergency clinic, sharing Personal Protective Equipment (PPE) with hospitals," says Bryn. "We sent most of it out, retaining enough for emergency veterinary services to help people with financial challenges. We were able to continue doing pet dental work and cat neutering services with minimal PPE." Angell expects to be scheduling regular surgeries soon. "People can still apply on the website," says Bryn.
Next was clearing the shelters, and when it came to fostering, Boston turned out strong. "Animals were going out the door as soon as we got them," says Bryn. While people used to be able to come into their adoption centers for warm and fuzzy meet and greets, MSPCA came up with a great new idea. "We wanted to recreate that personal connection," says Michael, "so we started using social media, like Facebook Live, to do virtual tours of the shelters. Our staff members interact with the animals, and they can describe their personalities because they've gotten to know them. This really helps the animals shine." These virtual visits have been so popular, MSPCA plans to continue them even after the health crisis is over.
One of the most important parts of MSPCA-Angell's plan was to help people keep their pets. "Some areas have a lot of economic downturn," says Michael. "We knew we needed to start distributing pet food in those areas as fast as we could." To give an idea of the need, Michael says the MSPCA gave away as much food in 6 weeks as they had in all of 2019.
Each of these initiatives was helped by a generous grant from PetSmart Charities. "That grant gave us the ability to move forward with all of our programs immediately," says Michael. "We were able to start distributing pet food that first week. It helped us change strategies for adoption, and for temporary housing for pets whose owners were affected by COVID-19."
One of those pets was Chloe. The tiny Chihuahua's owner contracted the virus and then passed away. Chloe needed not only a new home but also surgery to remove a metal plate from a leg brace. "We were able to give her that medical attention, and she was just adopted over the weekend," says Michael. Another pet hoping for a new loving home is Heidi, a 7-year-old cat. Her owner, an elderly woman, also passed away from covid-19. "It's hard for these animals to be in a shelter," says Michael. "Their worlds go from being incredibly small to incredibly large. Heidi and other pets like her need a lot of time and attention," he says. "And we're here to give it to them—to help them find new homes, and to help keep pets in their own homes."
For information on fostering, adoption, veterinary services, or pet food, please visit MSPCA-Angell's website: www.mspca.org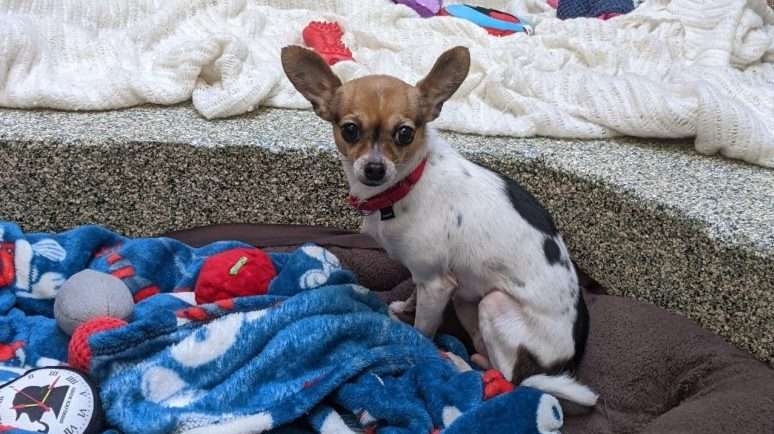 Before: Chloe, a 5-year-old Chihuahua, was taken to the Massachusetts Society for Prevention of Cruelty to Animals-Angell Animal Medical Center in Boston after her owner was stricken with the COVID-19 virus and passed away. She's just one of many pets the MSPCA-Angell has mobilized to save, thanks in part to a grant from PetSmart Charities.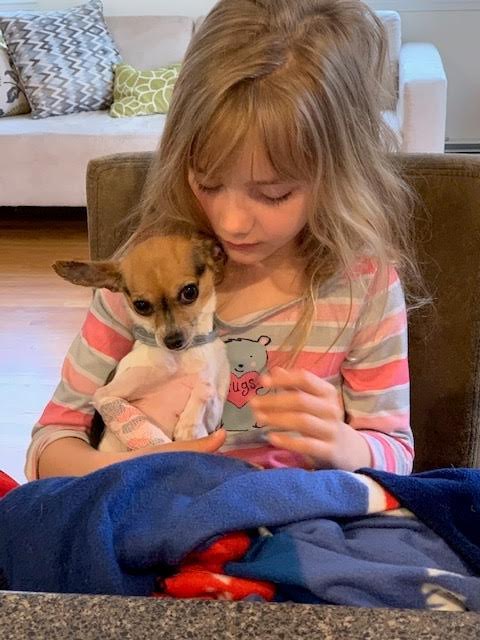 After: Thanks to MSPCA-Angell finding new ways to get pets fostered and adopted, Chloe found a new forever home. With grant money from PetSmart Charities, they've also been able to distribute pet food and offer life-saving veterinary equipment during the COVID-19 health crisis.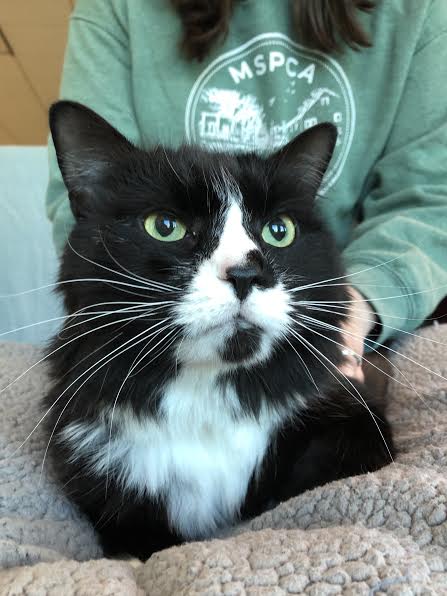 Hope for Heidi: When her owner passed away from COVID-19, Heidi was taken in by MSPCA-Angell. Going from a loving home to a shelter is a scary transition for animals, but the Boston community is showing up strong, taking them in and giving them the love and care they deserve.