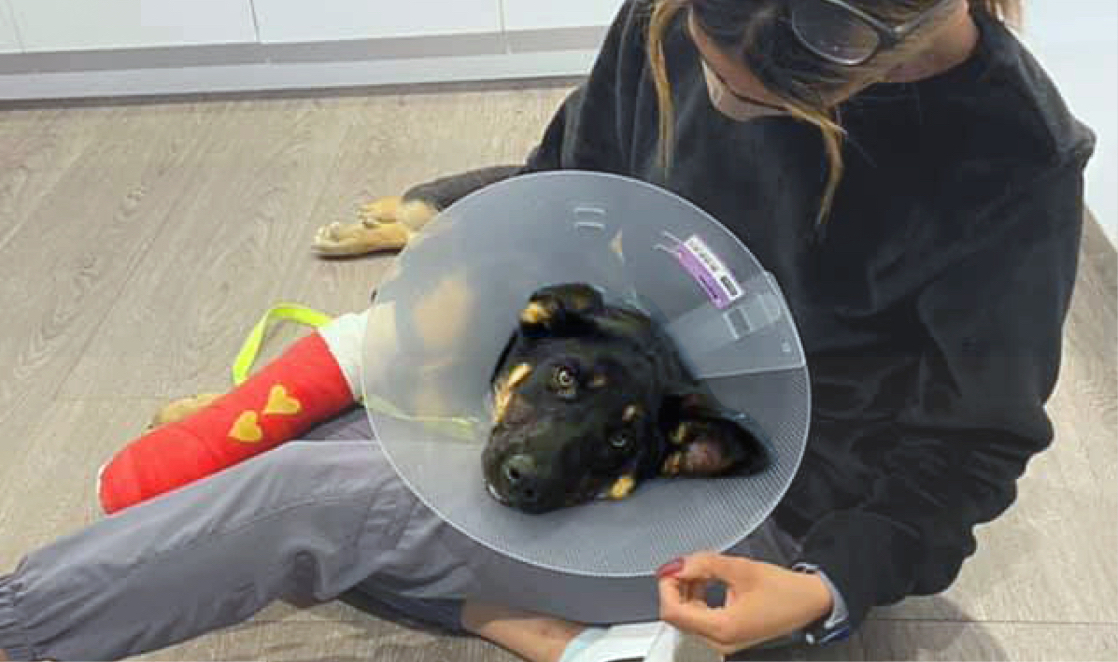 Dixie, a four-month-old German Shepherd, was a bouncy young puppy full of energy and love. So, when Dixie's mom, Kassie, came home from work to find her limping, Kassie was terrified.
"Her paw was swollen and I knew she was in pain," Kassie remembered. "She needed help, but I couldn't afford this unexpected expense. I would have had to use my rent money and fall behind in my rent. I was so worried; I cried."
Unsure of where to turn next, a friend told her about the Nova Scotia SPCA Veterinary Hospital, a non-profit veterinary hospital in their community that could offer Dixie the help she needed. With our support, the hospital offers state-of-the-art equipment and can provide medical, surgical and preventative health care for pets like Dixie.
"I emailed the Hospital and heard back immediately," recalled Kassie. "They took Dixie in the same day. Our visit was great. All the staff were very nice and they treated Dixie so well."
Dixie was provided veterinary care she needed and left the hospital with a pretty heart splint, instructions for Kassie to continue her care at home, and a follow-up appointment to ensure she would make a full recovery.
"I was so happy and relieved the SPCA Hospital was there to help me and to make sure Dixie had the medical care that she needed," smiled Kassie. "She loves to lay on her back and let the kids pat her stomach and give her kisses. Right now, she's snuggling with our other dog Lexi, Dixie's best friend and protector."
Thanks to the generosity of donors, PetSmart Charities of Canada™ has committed over $1.5 million in grant funding to support programs that bring affordable and convenient veterinary care to communities across the country. Our investment will also help develop community-based leaders to transform how, where and by whom veterinary care is delivered. Over time, new ecosystems will emerge that provide an updated veterinary care system that is more accessible for diverse populations.
Your support gave Dixie a second chance at a better life. Having made a full recovery, Dixie and Kassie can move forward with their journey together and enjoy many happy memories for years to come.