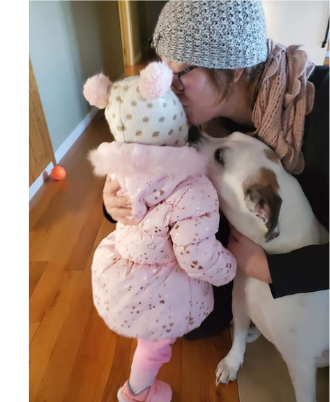 When beloved family pet Scout became ill, his pet parent William called their veterinary clinic to find help. But when he was told the estimated cost of treatment, he was at a loss for words. He and his wife had recently been laid off and with two small children in the family, he didn't know where to turn. "When he first got sick we didn't know what to do - we had just had our second daughter and finances were tight. But we had to do anything in our power to find support and help him any way possible," recalls William.
Fortunately, he found that PetSmart Charities of Canada™ grant recipient, Nova Scotia SPCA Veterinary Hospital would perform the life-saving surgery Scout needed at a subsidized cost William could afford. "Our boy Scout has been with my wife and I since we first moved in together – he is our 'first born.' He is also our first daughter Olivia's best friend. We all love him, but he is her world. Thank you from the bottom of our hearts for everything you did for our boy."
A Journey Toward Healthcare for All
The barriers Scout and his family faced are far too common. Nearly 60% percent of homes in Canada now include pets, but roughly half of them don't have access to basic veterinary care including preventative care, health exams and vaccinations. To address this, PetSmart Charities of Canada is proud to announce a commitment of $18 million in grants in the next five years to help break down the geographic, cultural, language and financial barriers that prevent pets from receiving adequate veterinary care they need to thrive at home with their families.
The Billion-Dollar Issue
PetSmart Charities of Canada estimates it would cost more than $5 billion annually to bridge the gap for pets in need of veterinary care. With this commitment, we're leading the change for good—but we can't do it alone.
When pets don't receive the healthcare they need, they suffer, and their parents do, too. Pets are members of the family and deserve pathways to healthcare that treats them as such.
We're in it Together
Today, Scout is back to being a healthy and happy dog, enjoying life with the people who love him. But there are millions more just like him who need our help.
"The challenges facing the veterinary care system are vast and varied and no single organization can solve them alone," says Aimee Gilbreath, president of PetSmart Charities of Canada.
"Through PetSmart Charities of Canada's commitment, we will be able to partner with and empower existing programs, universities and community organizations while also funding forward-looking solutions such as low-cost vet clinics. Our best friends deserve access to adequate healthcare like any family member."