Ease the transition with expert tips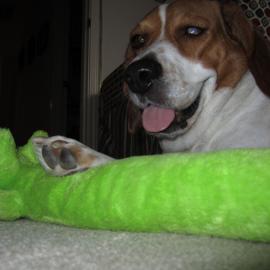 When Simone adopted Tipper, the dog was blind in her left eye and had a broken leg that had never been set. But Simone was confident that they could heal together … and she was right.
Today, Tipper has a slight limp, but that doesn't slow her down. No matter what, she knows when it's time to eat and when it's time to go for her daily walks. She even has a kitty friend who walks the block with her and Simone each day. And once they get home, one of Tipper's favorite places to lounge is in the clothesbasket.
Simone didn't know these things about Tipper right away. As in any relationship, they had to learn about each other's habits.
Once you bring your new furry friend home, give him time to get to know his new home on his own timetable. He may wag his tail and follow you everywhere immediately. Or, it might take him a bit longer to warm up to his new surroundings.
Be patient. Follow his lead and you'll both ease into a wonderful forever friendship.
Welcoming your new dog into your home
First, make sure you schedule a visit to the veterinarian for a checkup as soon as possible. Once that's done, PetSmart® experts recommend the following tips to help your dog feel at home.
Make introductions slowly and cautiously. If you already have a pet, introductions should be gradual and supervised. If you have small children, let them know your new furry family member has feelings like theirs; if they treat him gently and with love, he'll return the favor. You might consider introducing your new pet to the household when you can plan to spend more time there — perhaps over a long weekend or vacation. Initially, if you're not available to supervise, it may be wise to keep your new dog in a separate room or in a crate.
Keep your house — and your dog — safe. Keep the environment as safe and comfortable as possible by minimizing exposure to hazards such as electrical cords, potentially poisonous plants, cleaning supplies and household chemicals.
Ease into crate training. One way to ensure your best friend's safety is to keep him in a crate when you're unavailable to supervise him during the crucial first few weeks. Your dog's comfort level with crating will vary with age, breed and individual factors like previous crating history. During the adoption process, ask the shelter volunteers if they know how comfortable your new pet is in his crate.
Serve healthy meals. Your diet has a lot of variety, but nearly all of a dog's nutrition comes from a single source, which must provide the proteins, fats, amino acids and minerals he needs to grow and stay healthy. So it's important that you choose a complete and nutritious food that's appropriate for your pet's life stage. For example, choose a puppy food for dogs under 12 months of age, or an adult or "all life stages" food for dogs at least 1 year old.
Start a regular feeding schedule. When using canned food, feed your dog between 1 and 3 times a day, on a regular schedule. Likewise, if you choose dry food, feed your dog meals rather than leaving kibble out all the time, which can lead to weight gain and obesity. If you give your new dog treats, do so in moderation and make sure they're made for dogs. Some "people food," particularly fatty kinds, may disagree with his tummy and could even contribute to serious conditions.
Enjoy the walks and playtime. One of the joys of having a dog is sharing the outdoors with your pet, often by going for a stroll in the neighborhood or local woods. Be sure to check with your veterinarian or shelter staff before taking your pet outdoors. Your pet should be up-to-date on his vaccines and protected against fleas, ticks and parasites.
Suit up to socialize. Select a well-fitting collar or harness with a leash appropriate for your dog's size and strength. Check with your Adoption Partner to see how your dog gets along with other dogs. With any dog, it's best to start with walks in quiet areas and slowly increase exposure to other dogs. Many dogs will eventually love play dates or spending time at the dog park, but if your dog doesn't appear comfortable right away, it's fine to work up to more exposure over a few weeks.
A few trusted resources can help you stay on track
Looking for more resources to help ensure those first few days, weeks and months are enjoyable for the entire family? PetSmart pet care experts suggest "Puppies for Dummies" and "Dogs for Dummies" as solid resource books. They also recommend the following websites (clicking on the links below will take you away from PetSmart Charities® website):