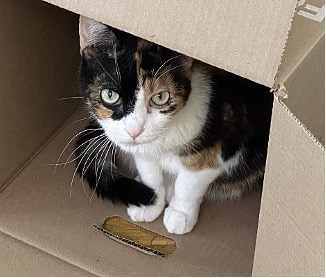 With approximately 94,000 adoptable pets waiting in shelters[1], many animal welfare organizations across Canada, already stretched thin, don't always have the time or capacity to create bios that will inspire potential pet parents to adopt.
That's why PetSmart Charities of Canada worked with Deutsch LA, an award-winning creative agency, to create Rescue Writer™, a free artificial intelligence (AI) tool that will help shelter staff and volunteers write attention-grabbing, heartwarming and editable bios, in an effort to increase pets' chances of finding loving homes.
By entering a few personality traits, Rescue Writer™ churns out quirky, sweet and attention-getting bios for each pet. The newly developed tool is designed to pique the interests of potential adopters to schedule "meet and greets" and determine ideal matches. For example, Joillyn is an adoptable senior domestic shorthair calico cat being cared for at Toronto Cat Rescue. Using a few different details, Rescue Writer™ developed the following bio to help Joillyn find her perfect match:
Meet Joillyn, a sweet and mellow senior cat with a heart as gentle as a summer breeze. She's the kind of feline friend who will curl up next to you, purring softly as she grooms your hand lovingly. Joillyn is the epitome of calm, a soothing presence in any home. Her ideal day consists of snuggling up with her human and sharing quiet moments. She does require a special diet, but that's just a small detail in her overall care. Adopting Joillyn means opening your home to a companion who will offer unconditional love and endless cuddles. Her serene nature and loving personality make her the perfect addition to any family looking for a peaceful and affectionate companion.
This will be especially helpful as animal welfare organizations bring adoptable pets into PetSmart stores for National Adoption Week, November 6 – 12, 2023.
During PetSmart Charities of Canada's National Adoption Week, animal welfare organizations will bring in adoptable cats, kittens, puppies, dogs and even some small pets, in an effort to help over 1,000 pets nationwide find loving homes ahead of the holidays. Additionally, National Adoption Week coincides with National Adopt a Senior Pet Month, and this year, PetSmart Charities of Canada is encouraging potential pet owners to consider senior pets as their furry companions.
"We're thankful to our friends at Deutsch LA for creating such an easy-to-use, accessible way to evolve the time-consuming job of writing bios," said Heidi Marston, director of pet placement at PetSmart Charities of Canada. "We're thrilled to make Rescue Writer available to shelters across Canada and help more pets — especially seniors — in need of warm homes in their golden years."
While some might not see senior pets as an ideal pet to adopt, many potential benefits come with having an older pet such as:
Senior pets are more likely to be calmer, more experienced and house-trained, which may make it a bit easier to bond with them.

For those in search of a fellow "couch potato" to watch movies with or even to lay low while working, senior pets may be a good match.

Senior pets may not need as much time exercising, ideal for those who prefer the comforts of the indoors as the weather turns colder.

Pets in their older years may have preferences or personalities that are easier to read and understand.

Adopting senior pets may mean peace and better health for the pets in their final years and helps shelters deal with overcrowding.
"While younger pets can be a lot to handle at times, living with senior pets might inspire you to slow down and take it easy," said Aimee Gilbreath, President of PetSmart Charities of Canada. "It helps give perspective and they can show that it's okay to take time to stop and smell the roses."
And for any pet lovers who aren't sure or ready to adopt, they can still make an impact by donating to help animals in need at PetSmartCharities.ca. They also can find their match when the time is right by visiting adoptable pets, and events at PetSmart Charities of Canada adoption centres in PetSmart stores.
PetSmart Charities of Canada National Adoption Week Details:
Canadian animal welfare organizations will be bringing in a wide range of adoptable animals at PetSmart stores across the country. Visitors will be able to meet and interact with various shelter pets available, as staff and volunteers will be on hand to help potential adopters.
Dates: November 6 to 12, 2023
Locations:  PetSmart stores across Canada. Visit PetSmart.ca to find a store near you.
[1]Humane Canada (2021 Animal Shelter Statistics)
About PetSmart Charities of Canada
PetSmart Charities of Canada is committed to making the world a better place for pets and all who love them. Through its in-store adoption program in PetSmart® stores across the country, PetSmart Charities of Canada helps thousands of pets connect with loving families each year. PetSmart Charities of Canada also provides grant funding to support organizations that advocate and care for the well-being of all pets and their families. Our grants and efforts connect pets with loving homes through adoption, improve access to affordable veterinary care and support families in times of crisis with access to food, shelter, and emergency relief. Each year, thousands of generous supporters help pets in need by donating to PetSmart Charities of Canada directly at PetSmartCharities.ca, while shopping at PetSmart.ca, and by using the PIN pads at checkout registers inside PetSmart stores. In turn, PetSmart Charities of Canada efficiently uses more than 90 cents of every dollar donated to fulfill its role as the leading funder of animal welfare in Canada, granting more than $30 million since its inception in 1999. Independent from PetSmart LLC, PetSmart Charities of Canada is a registered Canadian charity. To learn more visit PetSmartCharities.ca.
About PetSmart
PetSmart LLC is the leading pet retailer offering products, services and solutions for the lifetime needs of pets. At PetSmart, we love pets, and we believe pets make us better people. Every day with every connection, PetSmart's passionate associates help bring pet parents closer to their pets so together they can live more fulfilled lives. This vision impacts everything we do for our customers, the way we support our associates and how we give back to our communities.
PetSmart operates approximately 1,660 pet stores in the United States, Canada and Puerto Rico, as well as more than 200 in-store PetSmart PetsHotel® dog and cat boarding facilities. We provide a broad range of competitively priced pet food and products, as well as services such as dog training, pet grooming, pet boarding, PetSmart Doggie Day Camp™ and pet adoption.
PetSmart, PetSmart Charities® and PetSmart Charities of Canada™ work with nearly 4,000 animal welfare organizations to bring adoptable pets into stores so they have the best chance possible of finding a forever home. Through this in-store adoption program and other signature events, PetSmart has facilitated over 350 thousand adoptions in Canada, more than any other brick-and-mortar organization.
24-hour media at PetSmart and PetSmart Charities: MediaRelations@petsmart.com
Connect with PetSmart Canada and Charities on social media: 
Instagram: @PetSmartCanada & @PetSmartCharities 
Facebook: @PetSmartCanada & Facebook.com/PetSmartCharities 
Twitter: @PetSmartChariTs 
YouTube: YouTube.com/PetSmartCharitiesInc      
Media Contacts: 
Ludwick Chapman
lchapman@webershandwick.com
 
PetSmart Charities 24-hour media line: 623-587-2177