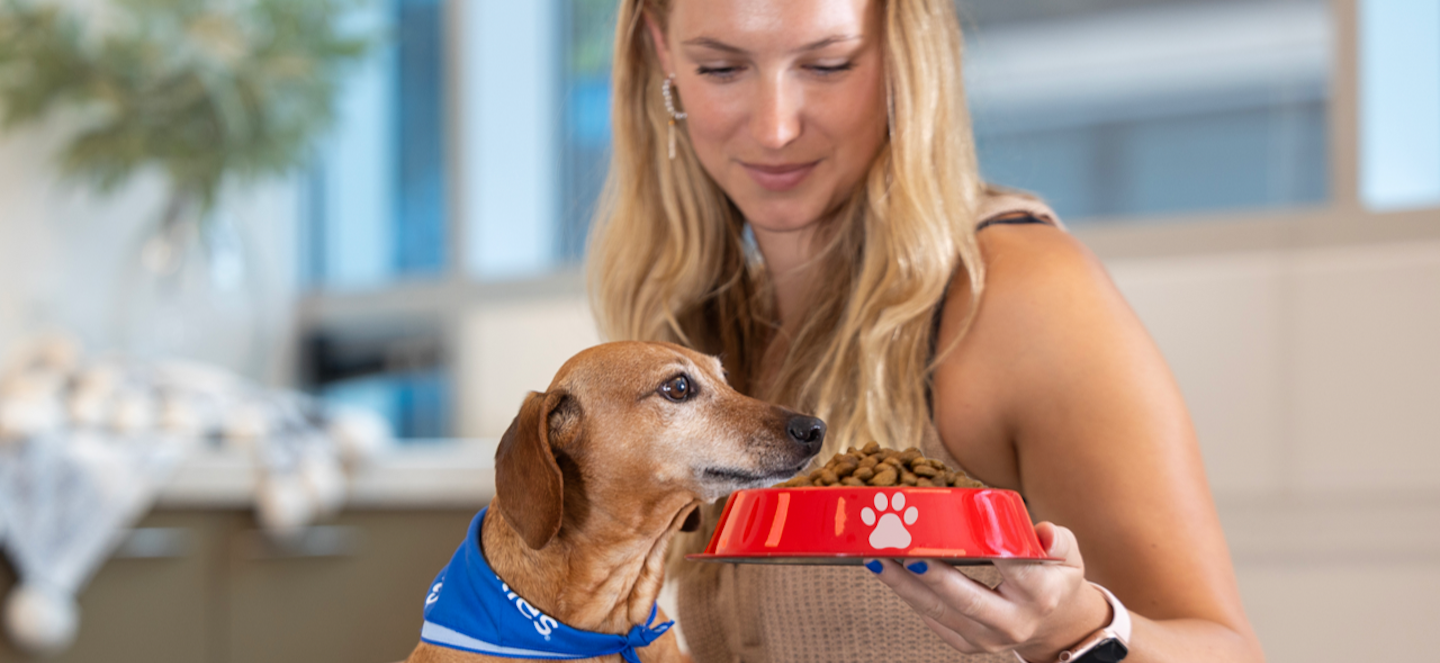 With inflation, the rising cost of food, and challenging financial times across the nation, an unprecedented number of Canadians visited food banks in 2022.[1] When pet owners face food insecurity, their pets often times do too.
PetSmart Charities of Canada, a leading funder of animal welfare in Canada, is stepping in to help bring awareness to pet food insecurity on the first-ever Pet Hunger Awareness Day™ on Tuesday, September 26th.
According to a recent nationwide[2] survey commissioned by PetSmart Charities of Canada, the majority of Canadians (77%) agree that they would forgo their meals to ensure their pet has enough to eat if they were struggling with food costs. Through relationships with various organizations nationwide, PetSmart Charities of Canada is working to help lighten the load for pet parents during times of need, keeping pets out of shelters and making sure pets are fed.
"We know that circumstances change, but we believe everyone deserves the love of a pet, even when times are tough," said Aimee Gilbreath, president of PetSmart Charities of Canada. "We're eager and excited to draw attention to this important issue through Pet Hunger Awareness Day because when families face food insecurity, their pets often do too."
To help those who love their pets but might struggle to afford to feed them, PetSmart Charities of Canada has committed $500,000 to help end pet hunger.  $300,000 will go to Humane Canada to help develop Canada's first national pet food banking network, which aims to serve over 21,000 pets throughout the country. The grant supports:
Identifying pet food assistance programs across Canada and developing an interactive map to connect pet parents in need with local resources

The purchase and distribution of pet food for existing pet food pantries

Identifying areas of need and helping increase the number of organizations offering pet food banks and pet food assistance
"We are so grateful to partner with PetSmart Charities of Canada to ensure families with companion animals can feed their pets and stay together," said Kathy Duncan, Director, National Programs at Humane Canada. "The pet food banking program helps so many vital organizations implement and maintain pet food pantries in animal shelters and human social services agencies across Canada."
The additional $200,000 will go towards grant funding through 2024, sent directly to various animal welfare organizations across Canada and helping keep pet food pantries stocked.
Those looking to support Pet Hunger Awareness Day™ and help in the fight against pet food insecurity can make an impact by donating to help pets in need at PetSmartCharities.ca.
[1] HungerCount 2022, Food Banks Canada
[2] The PetSmart Charities of Canada survey was conducted by Angus Reid Group from September 5th to 7th, 2023 among a representative sample of 1,550 online Canadians aged 18 and over who are members of the Angus Reid Forum. The survey was conducted in English and French and carry a margin of error of +/-2.5 percentage points, 19 times out of 20.
About PetSmart Charities of Canada
PetSmart Charities of Canada is committed to making the world a better place for pets and all who love them. Through its in-store adoption program in PetSmart® stores across the country, PetSmart Charities of Canada helps thousands of pets connect with loving families each year. PetSmart Charities of Canada also provides grant funding to support organizations that advocate and care for the well-being of all pets and their families. Our grants and efforts connect pets with loving homes through adoption, improve access to affordable veterinary care and support families in times of crisis with access to food, shelter, and emergency relief. Each year, thousands of generous supporters help pets in need by donating to PetSmart Charities of Canada directly at PetSmartCharities.ca, while shopping at PetSmart.ca, and by using the PIN pads at checkout registers inside PetSmart stores. In turn, PetSmart Charities of Canada efficiently uses more than 90 cents of every dollar donated to fulfill its role as the leading funder of animal welfare in Canada, granting more than $25 million since its inception in 1999. Independent from PetSmart LLC, PetSmart Charities of Canada is a registered Canadian charity. To learn more visit PetSmartCharities.ca.
24-hour media at PetSmart and PetSmart Charities: MediaRelations@petsmart.com
Connect with PetSmart Canada and Charities on social media: 
Instagram: @PetSmartCanada & @PetSmartCharities 
Facebook: @PetSmartCanada & Facebook.com/PetSmartCharities 
YouTube: YouTube.com/PetSmartCharitiesInc      
Media Contacts: 
Ludwick Chapman
lchapman@webershandwick.com

PetSmart Charities 24-hour media line: 623-587-2177