A better life for pets
It's a staggering number – millions of beloved pets across Canada don't receive veterinary care.
At PetSmart Charities of Canada™, we believe all pets deserve to live long, happy lives in the arms of those who love them. Sadly, the lack of accessible and affordable veterinary care risks the bond between pets and their families. According to a report from the Access to Veterinary Care Coalition, one in four pet owners experience barriers to obtaining veterinary care. The primary obstacle for pet owners seeking care is finances. But financial barriers are only one obstacle; transport, language, and location also pose a challenge for pet owners seeking veterinary assistance for their pets.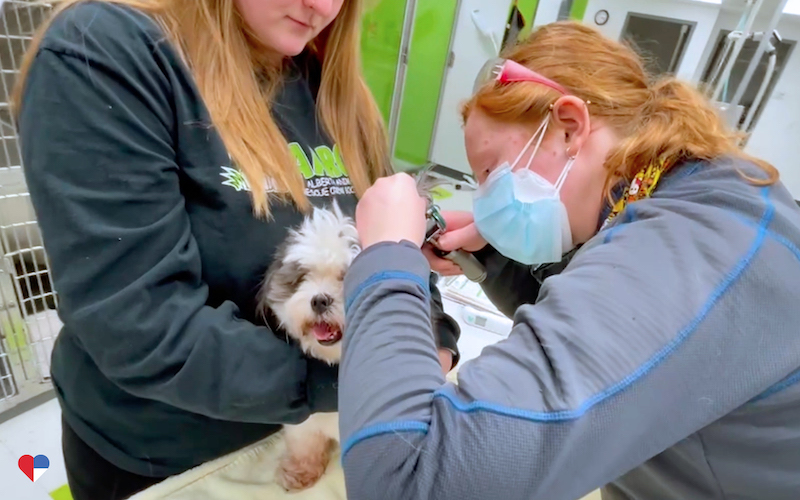 We see that it is a complex problem, but our commitment is simple – to help keep pets with the people who love them, regardless of their situation. That's why we are providing grants to partner organizations to help address the immediate problem while creating long-term, sustainable solutions that will help keep pets with their families. Organizations like Alberta Animal Rescue Crew Society (AARCS), who are helping to expand access to veterinary care for pet parents and communities who need it most.
"Here at AARCS, we are helping pets in remote communities get the care that they need, so they can stay with their families," said Alberta Animal Rescue Crew Society Executive Director Deanna Thompson. "We are so grateful to partner with PetSmart Charities of Canada to provide this important program. Truly there's no better feeling than saving a life – and that's what our volunteers and staff are doing every single day." she added.
Often serving remote, northern communities, AARCS is helping bring veterinary care to areas where the nearest veterinarian could be hours away. Access to this crucial, trusted care means fewer pet guardians will have to surrender their pets due to a lack of resources.
A better world for all 
Nearly 60% of households in Canada now include a pet to love. Giving a pet a good life enriches our own.
"When pet parents struggle to find affordable or accessible veterinary care, they often have no choice but to give up their beloved family members. Investing in critical partnerships with our animal welfare partners across Canada will help keep pet families together in the communities they serve. The benefits of caring for pets shouldn't belong exclusively to the privileged," explains Aimee Gilbreath, PetSmart Charities of Canada President.
Together, we're changing lives

.
No one organization can solve this complex problem alone. The veterinary care system needs an overhaul.
That's why, thanks to the generosity of our donors, we've committed over $1.5 million to support programs that bring affordable and accessible veterinary care to communities across the country. Through our support, we're also developing community-based leaders to transform how, where and by whom veterinary care is delivered. Over time, new ecosystems will emerge that provide an updated veterinary care system – one that is more accessible for diverse and remote populations.​