Pets offer more than companionship to many Canadian seniors. They also act as a source of purpose, affection, empathy, and have a profoundly positive effect on the seniors they love. But some seniors face struggles caring for their pets and sometimes need a helping hand.
Calgary Seniors' Resource Society in Calgary, Alberta is a volunteer run organization that supports low-income and isolated seniors in their community. While working with their senior clients, they realized that a gap existed in the support they provided, as many seniors also needed help with their pets. Fearful of what would happen to their beloved pets if they were not able to properly care for them, many seniors were afraid to reach out for help.
That's how the Pet Assist program began, helping seniors care for their pets so they could stay with the pet parents who love them. The program matches senior pet parents with volunteers who regularly visit and lend a helping hand with dog walking, litter cleanup, medication administration and assistance with vet appointments. The organization also helps cover emergency veterinary costs and by providing food and supplies to keep their four-legged clients happy and healthy.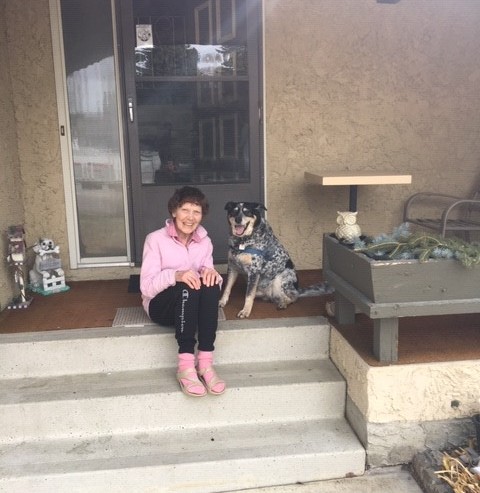 Matching Families with Volunteers Who Lend a Helping Hand
Calgary seniors Bill and Gail heard about the Pet Assist program on the news one morning and immediately reached out for help with their beloved dog, Alfie. Bill's mobility had declined, and Gail had suffered a bad fall on the ice while walking Alfie. Gail told volunteers about how Alife brings the couple so much joy, and after her injury, she had been worried about how she was going to ensure Alfie got enough exercise. Bill and Gail couldn't bear the thought that Alfie's needs would not be met until she could take him out for his walks again.
The Pet Assist program matched Bill, Gail and Alfie with two volunteers who came to walk Alfie a few times a week. The couple could not thank the volunteers enough for the time they gave to ensure Alfie got his walks. Alfie also showed his appreciation to the volunteers and was always excited to see them. During one of their visits, a volunteer noticed had Alfie developed a cyst on his eye. Knowing the couple lived on a low income, The Pet Assist program helped with the cost of his veterinary care so Alfie could receive the treatment he needed to continue living a happy life in his loving home.
PetSmart Charities of Canada is proud to support the Pet Assist program by providing over $70,000 in grant funding over the past 3 years. Watch this video to learn more about Calgary Seniors' Resource Society Pet Assist program and the impact they have made with our support.
:
It's thanks to generous donors like you that PetSmart Charities of Canada can provide grant funding to programs like this one. Your donations make a difference across Canada in communities like yours. Donate today.