As a thank you for all that your organization is doing to help pets in need during these challenging times, we are pleased to share that the PetSmart Charities Big Thanks Bonus is here.

Beginning September 1, 2020 and continuing through January 31, 2021, all adoption partners in good standing, who facilitate in-store adoptions during this time, are eligible to receive a Big Thanks Bonus in addition to their adoption rewards.

Subject to the information below, including the information in the FAQs, adoption partners will receive the following Big Thanks Bonus based on the number of pets adopted in-store:

Canada Big Thanks Bonus Threshold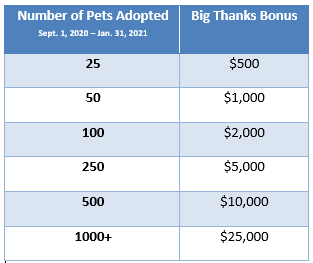 We recognize that your organization has been faced with many challenges.  The Big Thanks Bonus is our way to give back and to thank you. Please note that all COVID-19 health and safety protocols and policies must be adhered to by you and your volunteers and employees.   

Thank you again for your commitment and for your partnership.  Please review the FAQs below for additional information and reach out to Charlotte Palmer, PetSmart Charities of Canada associate relationship manager, if you have questions.
Sincerely,

The PetSmart Charities of Canada Team

FAQs
How long will this bonus campaign run?

The Big Thanks Bonus campaign will begin September 1, 2020 and will continue through January 31, 2021.


 

 Do I need to sign up to be part of the Big Thanks Bonus?

No.  You just need to be an approved adoption partner in good standing with PetSmart Charities.


 

 What if I am not an approved PetSmart Charities adoption partner?

If your organization would like to facilitate adoptions at a PetSmart store, please contact your local PetSmart store leader to begin the process.

Please note that the adoption partner application and approval process takes four to six weeks to complete.

 Does this bonus apply to any adoption that my organization facilitates?

No. Only adoptions finalized at a PetSmart store from an approved adoption partner will be eligible for this bonus.


 

Will the adoptions my organization facilitated before September 1, 2020 be eligible for the

Big Thanks Bonus?

No. Every participating organization will start at zero adoptions on September 1, 2020. 


 

When will I receive my bonus?

PetSmart Charities will verify all in-store adoptions from September 1, 2020 through January 31, 2021 and will issue one bonus payment at the end of February 2021.

To receive the bonus, you must be an active PetSmart Charities adoption partner and in good standing on January 31, 2021.
 

  Will this impact my adoption rewards?

  Can you give me an example of how much my organization can earn during this time?

If your organization adopts out 250 pets between September 1, 2020 and January 31, 2021, your organization will be eligible to receive a total of $10,000 based on the following:

$5,000 from the Big Thanks Bonus

$5,000 in adoption rewards 

How will my adoptions be tracked?

It is up to your organization to keep track of your adoption totals.

Adoptions that are eligible for the Big Thanks Bonus and adoption reward payments will be tracked by your organization's PetSmart Charities Adoption Partner Number. This was the number assigned to your individual organization upon admittance to the PetSmart Charities Adoption Partner Program. Please contact your

 PetSmart Charities Associate Relationship Manager

if you do not know your adoption partner number.

What if there's a discrepancy in the number of recorded adoptions?

Adoption partners must notify PetSmart Charities of any discrepancies by February 28, 2021.

All adoptions must be finalized in store and assigned to your adoption partner number to be eligible.


 

Are there any restrictions on how my organization can use the Big Thanks Bonus campaign?

No.  This one-time bonus can be used however you determine so long as it advances your charitable mission of helping homeless pets.

Are there any restrictions on which animals qualify for this bonus?

In addition to the other requirements discussed herein, all pets that regularly qualify for the PetSmart Charities adoption program qualify for this bonus. 


 

 Is this a contest?

No. Every adoption partner who facilitates adoptions in a PetSmart store between September 1, 2020 and January 31, 2021 is eligible for the Big Thanks Bonus.