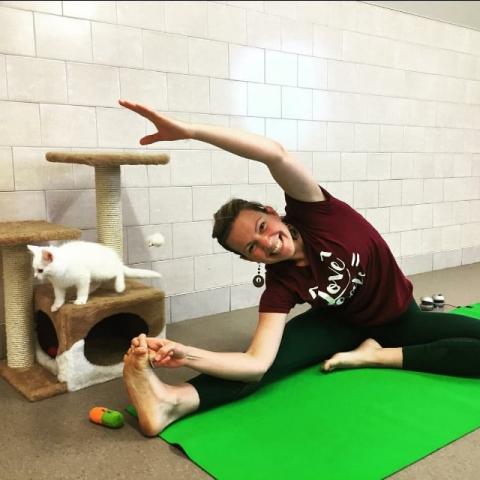 June 19, 2017—TORONTO, ON—
In honour of Canada's 150th anniversary of confederation, PetSmart Charities of Canada invited registered charities and animal welfare groups from coast to coast to apply for $150,000 in new funding support.  The grant application window opened at the Canadian Federation of Humane Societies' Annual Animal Welfare Conference in April 2017, where attendees were informed that 10 grants of $15,000 each would be available to help people and pets from coast to coast.  Today, PetSmart Charities of Canada is pleased to announce the Canada 150 Commemorative Grant Recipients in alphabetical order by province.
ALBERTA—Alberta Helping Animals Society
In vulnerable populations such as transient or homeless people, seniors, and individuals and families living at or near the poverty line, veterinary care and spay/neuter procedures for pets can sometimes be cost-prohibitive.  To help with this situation, the Alberta Helping Animals society plans to use its Canada 150 Commemorative Grant to offer a low cost spay/neuter clinic for 150 pets across the province.
BRITISH COLUMBIA—Surrey Animal Resource Centre
Behavioural issues are one of the leading reasons why pets are surrendered to shelters.  Through pop-up Paw Play in the Park events coordinated by the Surrey Animal Resource Centre, free pet training tips and advice will be provided to pet parents to encourage humane education, enhance the human-animal bond and decrease the number of pets surrendered to shelters in B.C.
NEW BRUNSWICK—Restigouche County SPCA
Bilingual Spay/Neuter Program for Companion Animals:  In this bilingual community in New Brunswick, the Restigouche SPCA will embark on an awareness campaign for pet parents regarding the importance and benefits of spaying or neutering their pets.
NEWFOUNDLAND—SPCA St. John's 
In this unique new program, the SPCA St. John's will bring the mindfulness benefits of yoga together with the healing power of pets.  Community members will be invited to participate in yoga classes at the shelter, where adoptable pets will join them for downward-facing dog poses as they look for their forever homes and families. 
NOVA SCOTIA—Spay Day HRM Society 
With their Canada 150 Commemorative Grant, the Spay Day HRM Society of Halifax, Nova Scotia will offer a subsidized spay/neuter program for pet parents in the province who believe in the importance of spaying or neutering their pets, but who may not have the financial resources to do so.
NUNAVUT—Iqaluit Humane Society 
The Iqaluit Humane Society is dedicated to saving the lives of animals both in Nunavut and across the Canadian Arctic.  Their Canada 150 Commemorative Grant will help to control pet overpopulation in Canada's remote north by offering subsidized spay/neuter surgeries to owned pets in the surrounding communities.

ONTARIO—Nature Canada 
With a new project, Nature Canada is aiming to preserve bird lives while keeping cats safe.  Their Canada 150 Commemorative Grant will be used to create an educational program and interactive learning tools that will be leveraged in school curriculums and other mediums to help educate children and the public about how they can help cats and birds to co-exist in our ecosystems.
PRINCE EDWARD ISLAND—Veterinarians Without Borders 
Veterinarians Without Borders will leverage their grant from PetSmart Charities of Canada to host a first-of-its-kind educational conference in Charlottetown dedicated to sharing best practices for animal welfare agencies working in partnership with First Nations communities to help manage and prevent pet overpopulation and promote pet health in historically underserved areas of Canada's north.
QUEBEC—SPCA L'Outaouais
To prevent further pet overpopulation in a remote rural region of Quebec, the SPCA L'Outaouais will use the PetSmart Charities of Canada grant to provide spay/neuter procedures, microchipping and vaccinations to 150 feral and community cats in honour of Canada 150.
SASKATCHEWAN—Saskatoon SPCA
The Saskatoon SPCA knows that physical exercise is important for both people and pets. That's why they're constructing a dog agility course on the grounds of their facility.  The course will be used to provide training and play for shelter pets while they await adoption and will also be open to the community of pet parents in Saskatoon.
 "It's our hope that these innovative programs, paired with the $150,000 in funding support from PetSmart Charities of Canada will have a marked impact on the lives of people and pets across Canada," said John DeFranco, Chair of the Board at PetSmart Charities of Canada.  "The grant applications we received reflect the entrepreneurial, community-focused and caring spirit that defines us, both as Canadians and as people who care deeply about the pets and animals with whom we share our country."
-30-
About PetSmart Charities of Canada:
PetSmart Charities of Canada is a registered Canadian charity with a mission to find lifelong, loving homes for all pets by supporting programs and thought leadership that bring people and pets together.  In addition to finding homes for more than 25,000 shelter pets each year through its in-store adoption program in all PetSmart stores, PetSmart Charities of Canada provides funding to registered charities aligned with its mission through four key areas of grant support: Preventing Pet Homelessness; Helping Shelter Pets Thrive; Supporting the Bond Between People and Pets; and Emergency Relief and Disaster Support. Each year, millions of generous PetSmart shoppers help pets in need by donating to PetSmart Charities of Canada using the pin pads at checkout registers inside PetSmart stores.  In turn, PetSmart Charities efficiently uses 89 cents of every dollar donated and has become a leading funder of animal welfare in Canada, donating nearly $12 million to date.  PetSmart Charities of Canada is a member of Imagine Canada, and a registered Canadian charity independent from PetSmart, Inc. To learn more, visit www.petsmartcharities.ca
For more information:
Carrie Trembinski  PR Manager, PetSmart Charities of Canada
ctrembinski[at]petsmartcharities[dot]org
mobile: 647-201-1155