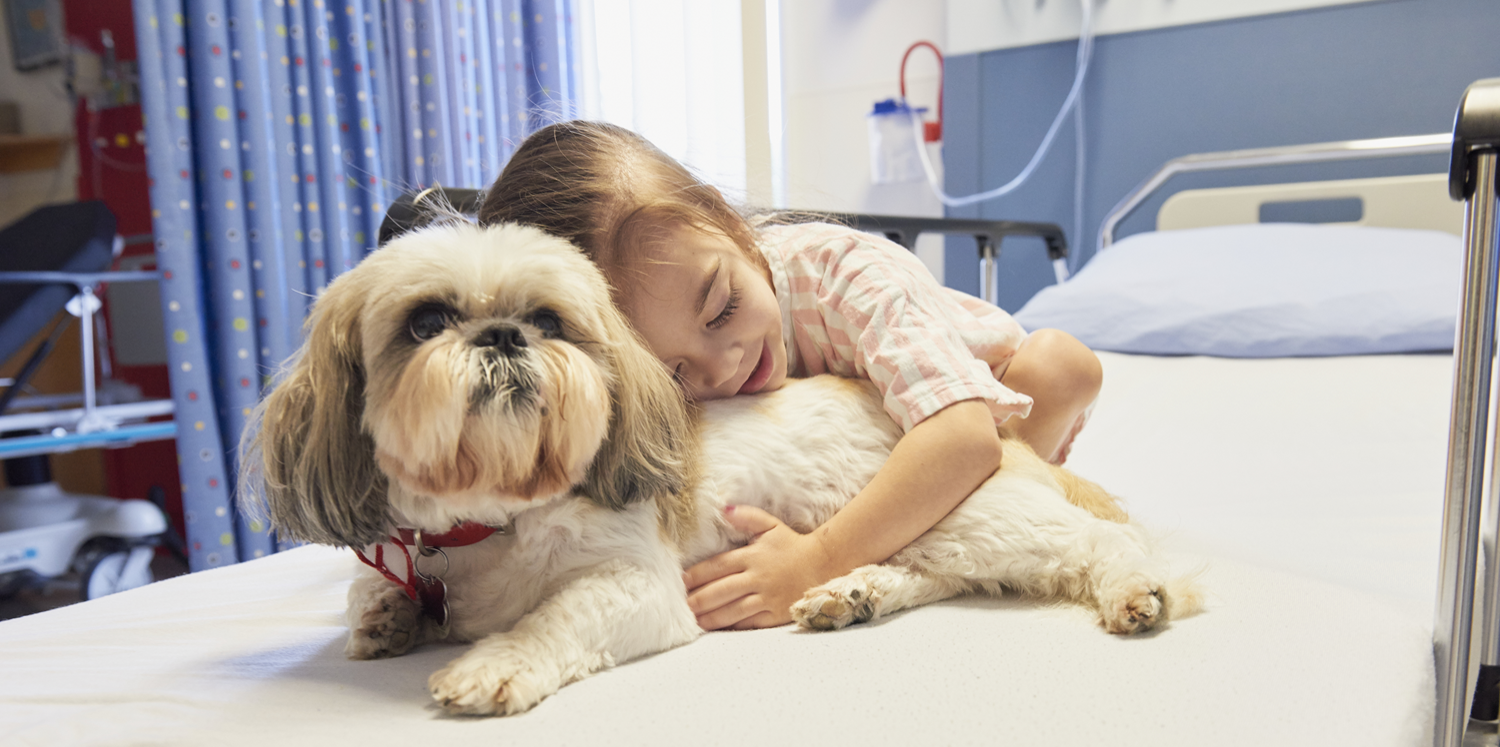 Apr. 26, 2017 – VANCOUVER, B.C.
– When it comes to bringing a smile to the face of a sick child, few things are as effective as the wet nose and wagging tail of an adorable dog. Thanks to a $200,000 grant from PetSmart Charities of Canada, more patients at BC Children's Hospital will soon have access to the highly sought-after healing power of pet therapy.  The donation, which will be paid over three years, is designed to expand and enhance the Dog Visitation Program at BC Children's Hospital.
"With this grant, we can now increase the number of pet therapy dogs at the hospital from seven to 15, allowing us to complete 53 percent more patient and caregiver visits each year," says Joanne Hochu who works in the Child Life Department and oversees the Dog Visitation Program at BC Children's Hospital.
First launched in 2006, the Dog Visitation Program supports many of the 86,000 patients seen each year in the hospital's Emergency Department, Surgical Daycare, Medical Day Unit, and in Neurology and Cardiology.
"Here at BC Children's Hospital, the staff are delivering life-saving treatment and care each and every day," said David Haworth, DVM, Ph.D., and President of PetSmart Charities of Canada. "And if our donation can enhance that care by providing funding for more pet therapy dogs, that can visit more areas of the hospital and lift the spirits and support the healing of more patients, families and care-providers each year, then we know our philanthropy has been well-placed." 
Certainly, that was the Vandusen family's experience.  Blayke Vandusen was diagnosed at just five days old with a chromosomal disorder called Turner Syndrome.  During the first few years of her young life, she required multiple doctor visits to many departments at BC Children's. On one of her many hospital stays, a dog named Molly visited her — bringing a sense of peace and normalcy that helped both Blayke and her family to cope during their hospital stay.
"Before our time at BC Children's Hospital, we thought that pet therapy was a nice idea, and we imagined that it probably helped kids undergoing treatment and care," said Blayke's mother, Cassandra. "After we saw Blayke's face light up when Molly trotted into her room — no matter what treatment she had just been through or how tired she was — we truly understood the difference these dogs can have on the healing process…for Blayke most importantly, but for our family, too."
This is the second animal-assisted therapy program that has been supported by funding from PetSmart Charities of Canada, an organization dedicated to saving the lives of homeless pets and supporting programs that bring people and pets together. In 2015, the leading animal welfare charity made a similar multi-year commitment to the Paws for Hope Pet Therapy Program at the Hospital for Sick Children in Toronto.
John DeFranco, President of PetSmart Canada and Chair of the PetSmart Charities of Canada Board of Directors, also spoke at the announcement. "BC Children's is the only specialized pediatric hospital in the province.  Through this donation we're helping to ensure that if the 4.6 million residents of B.C. ever need the expert care of BC Children's Hospital for their family, they'll also have access to the healing power of pets when they need it the most.  By extension, we'll even be helping the more than 650 PetSmart associates who call the province of B.C. home."
About BC Children's Hospital
BC Children's Hospital is the province's only full-service acute-care pediatric hospital. Last year, we treated more than 84,000 children. The money raised by the foundation supports BC Children's Hospital, its research institute and Sunny Hill Health Centre for Children. For more information, visit www.bcchf.ca.
About PetSmart Charities of Canada
PetSmart Charities of Canada is a registered Canadian charity with a mission to find lifelong, loving homes for all pets by supporting programs and thought leadership that bring people and pets together.  In addition to finding homes for more than 25,000 shelter pets each year through its in-store adoption program in all PetSmart stores, PetSmart Charities of Canada provides funding to registered charities aligned with its mission through four key areas of grant support: Preventing Pet Homelessness; Helping Shelter Pets Thrive; Supporting the Bond Between People and Pets; and Emergency Relief and Disaster Support. Each year, millions of generous PetSmart shoppers help pets in need by donating to PetSmart Charities of Canada using the pin pads at checkout registers inside PetSmart stores.  In turn, PetSmart Charities efficiently uses 89 cents of every dollar donated and has become a leading funder of animal welfare in Canada, donating nearly $12 million to date.  PetSmart Charities of Canada is a member of Imagine Canada and a registered Canadian charity independent from PetSmart, Inc. To learn more, visit www.petsmartcharities.ca
Media Contacts:
Miriam Fitting
Golin for PetSmart Charities of Canada
mfitting[at]golin[dot]com
416-483-6225 ext. 3440
Pamela Smith
BC Children's Hospital Foundation
psmith[at]bcchf[dot]ca
604-875-2345 ext. 5547